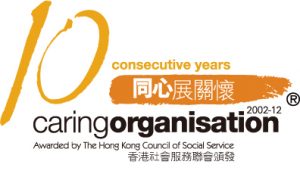 Hong Kong, 3rd May, 2012 - Hong Kong Baptist Hospital (HKBH) is awarded the "10 Consecutive Years Caring Organisation Logo" by The Hong Kong Council of Social Service, in recognition of its commitment in caring for the community over the past ten years.
Corporate social responsibility is fundamental to HKBH's culture. Since the launch of Caring Organisation Scheme in 2002, HKBH has been awarded the Caring Organisation Logo for ten consecutive years. "Apart from the provision of quality medical services, we always strive to demonstrate our care to the community. The logo affirmed our commitment for the community," the Chief Executive Officer of HKBH, Dr Raymond CHEN said.
HKBH has demonstrated its caring over the past decade. Apart from supporting employees' volunteering and promoting environmental protection in the daily operation; HKBH also shows its caring for its staff by offering various benefits and supporting services. In 2011, HKBH collaborated with Baptist Oi Kwan Social Service on a new corporate social enterprise project – "Baptist Holistic Home Care Service", which aims to help discharged patients recover at home after hospitalisation and provides support to the patients' family.
"We will plan and take part in more CSR projects in the coming future. We wish to help more people in need and promote the message of caring in the community, " said Dr CHEN.
Launched by The Hong Kong Council of Social Service, the Caring Organisation Scheme aims to build a cohesive society by promoting corporate social responsibility. To qualify for the Caring Organisation Logo, applicants are assessed in three scopes: caring for the communities, caring for the employees and caring for the environment.
About Hong Kong Baptist Hospital
Established in 1963, Hong Kong Baptist Hospital is devoted to delivering medical services of supreme quality to the community. With the missions of providing holistic health care and bringing physical, emotional, social and spiritual well-being to individuals for the Glory of God, HKBH integrates medical service with spiritual services by its dedicated pastoral care team, who provide spiritual and emotional support to patients and relatives. HKBH values patient service and it has set up a patient service department to collect and handle patients' opinions, which are taken into account so as to enhance the Hospital's service quality. In order to deliver highly diversified medical services, HKBH has opened a range of medical centres, including Breast Care Centre and Nuclear Medicine Centre in 2010, more medical centres are planned to be opened in the near future.
HKBH extended its medical services to the community by inaugurating the "Kai Tak Community Health Centre" at Sung Wong Toi Road, Tokwawan, in February of 2011. The Centre is comprised of Renal Centre, Holistic HealthCare Centre and Chinese Medicine Clinic, aiming to fulfill HKBH's mission of providing holistic health care. Thanks to the continuous support and efforts made by the devoted and professional staff, HKBH has developed into such a successful and established hospital. HKBH continues to strive for the best medical service and spiritual care for the community.